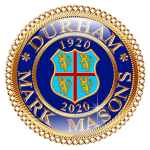 The following table provides information on full Provincial Team visits to Lodges. There are also dates for the Annual Meetings. Royal Ark Mariner Lodge visits are shown in red to help distinguish them in the table.

In addition to these visits, the Provincial Grand Master, Deputy Provincial Grand Master and the Assistant Provincial Grand Master will be visiting many lodges throughout the year.
Provincial Grand Master announced that, until further notice, all official representation on behalf of the Mark Master Masons of the Province of Durham will cease.  This is due to the current outbreak of the Coronavirus, and the problems it is causing.
The RAM Assembly scheduled for Friday, 27th March 2020, is cancelled.
Date
Lodge
Lodge No.
Hall Location
Event
Status
27th March 2020
Annual Assembly of Royal Ark Mariners
Ferryhill
CANCELLED
1st April 2020
Ryton Lodge of Royal Ark Mariners
1714
Ryton
Provincial Visit
(25th Anniversary)
CANCELLED
8th April 2020
Union Lodge of Royal Ark Mariners
124
Queen St, S'lnd
Provincial Visit
CANCELLED
21st April 2020
William Todd Lodge of Mark Master Masons
929
Willington
Provincial Visit
CANCELLED
14th May 2020
Penshaw Lodge of Mark Master Masons
1055
Shiney Row
Provincial Visit
CANCELLED
28th May 2020
Dunelm Lodge of Mark Master Masons
356
Durham
Provincial Visit
CANCELLED
24th June 2020
Annual Meeting
Lancastrian Suite
POSTPONED
29th June 2020
Barnard Castle Lodge of Royal Ark Mariners
778
Barnard Castle
Provincial Visit
CANCELLED
16th September
Auckland Lodge of Mark Master Masons
596
Shildon
Provincial Visit
CANCELLED
28th September
Spennymoor Lodge of Royal Ark Mariners
981
Spennymoor
Provincial Visit
CANCELLED
7th October
Steadfast Lodge of Mark Master Masons
845
Darlington
Provincial Visit
CANCELLED
14th October
Darlington Lodge of Royal Ark Mariners
250
Darlington
Provincial Visit
(Centenary)
CANCELLED
26th October
Durham Lodge of Installed Mark Masters
1492
Birtley
Provincial Visit
CANCELLED
28th October
Elevation Lodge of Royal Ark Mariners
1112
Burnopfield
Provincial Visit
CANCELLED
12th November
St. Andrews Lodge of Royal Ark Mariners
854
Stanley
Provincial Visit
CANCELLED
13th November
Bede Lodge of Mark Master Masons
605
Burdon Road, S'land
Provincial Visit
CANCELLED
19th November
Durham Lodge of Installed Commanders
1492
Hetton le Hole
Provincial Visit
CANCELLED
25th November
Ravensworth Lodge of Mark Master Masons
718
Queen Street, S'land
Provincial Visit
(Centenary)
CANCELLED
1st December
Hackworth Lodge of Mark Master Masons
761
Shildon
Provincial Visit
CANCELLED
7th December
Eclectic Lodge of Royal Ark Mariners
39
Hartlepool
Provincial Visit
(Centenary)
CANCELLED
10th December
Percy Lodge of Mark Master Masons
122
Stockton
Provincial Visit
(Sesqui Centenary)
CANCELLED
21st December
Hackworth Lodge of Royal Ark Mariners
761
Shildon
Provincial Visit
CANCELLED
26th January
Eclectic Lodge of Mark Master Masons
39
Hartlepool
Provincial Visit
CANCELLED
28th January
Union Lodge of Mark Master Masons
124
Queen Street, S'land
Provincial Visit
(Sesqui Centenary)
CANCELLED
4th February
George Washington Lodge of Mark Master Masons
1626
Birtley
Provincial Visit
CANCELLED
11th March
Elevation Lodge of Mark Master Masons
1112
Burnopfield
Provincial Visit
CANCELLED
16th March
Ambrose Crowley Lodge of Mark Master Masons
1269
Dunston
Provincial Visit
CANCELLED
26th March
Annual Assembly of Royal Ark Mariners
Ferryhill
Confirmed