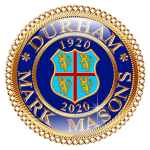 The following table provides information on full Provincial Team visits to Lodges. There are also dates for the Annual Meetings. Royal Ark Mariner Lodge visits are shown in red to help distinguish them in the table.

In addition to these visits, the Provincial Grand Master, Deputy Provincial Grand Master and the Assistant Provincial Grand Master will be visiting many lodges throughout the year.

Please note that the start time for the Lodge meetings is generally 6:30pm and not the usual start time for the Lodge. Please check with the Lodge to ensure that you have the correct time to avoid being disappointed.
Date
Lodge
Lodge No.
Hall Location
Event
Status
12th September 2023
Mark Grand Lodge
London
Confirmed
19th September 2023
Stockton Lodge of Royal Ark Mariners
122
Stockton
Provincial Visit
Confirmed
20th September 2023
Auckland Lodge of Mark Master Masons
596
Shildon
Provincial Visit
Confirmed
27th October 2023
Union & Ravensworth
124
S'Land Queen St.
Amalgamation
Confirmed
5th October 2023
Unity Lodge of Mark Master Masons
827
Seaham
Provincial Visit
Confirmed
11th October 2023
Darlington Royal Ark Mariners
250
Darlington
Provincial Visit
Confirmed
23rd October 2023
Durham Lodge of Installed Mark Masters
1492
Birtley
Provincial Visit
Confirmed
26th October 2023
St. Andrews Lodge of Mark Master Masons
854
Stanley
Provincial Visit
Confirmed
2nd November 2023
George Washington Mark Lodge
1626
Birtley
Provincial Visit
Confirmed
10th November 2023
Ryton Lodge of Mark Master Masons
1714
Ryton
Provincial Visit
Confirmed
14th November 2023
Bernard Gilpin Lodge of Mark Master Masons
860
Hetton
Provincial Visit
Confirmed
16th November 2023
Durham Lodge of Installed Commanders
1492
Hetton le Hole
Provincial Visit
Confirmed
28th November 2023
Eclectic Lodge of Mark Master Masons
39
Hartlepool
Provincial Visit
Confirmed
8th December 2023
Bede Lodge of Mark Master Masons
605
S'Land Burdon Road
Provincial Visit
Confirmed
11th December 2023
Royal Ark Mariners Grand Lodge
London
Confirmed
14th December 2023
Elevation Lodge of Mark Master Masons
1112
Blackhill
Provincial Visit
(2 no. 50th yr certificates)
Confirmed
22nd January 2024
Moseley Lodge of Royal Ark Mariners
925
Birtley
Provincial Visit
(75th Anniversary)
Confirmed
23rd February 2024
Rockcliffe Lodge of Royal Ark Mariners
362
South Shields
Provincial Visit
(Centenary)
Confirmed
14th March 2024
Ferryhill Lodge of Mark Master Masons
1560
Ferryhill
Warden's Night
Confirmed
29th March 2024
Provincial Royal Ark Mariner Assembly
Ferryhill
Confirmed
8th May 2024
Darlington Lodge of Mark Master Masons
250
Darlington
Provincial Visit
Confirmed
26th June 2024
Mark Provincial Annual Meeting
The FED, Dunston
Confirmed