The Provincial Executive is made up from the senior members of the Provincial Grand Lodge of Mark Master Masons of Durham.
You will be able to get to know them a little more here.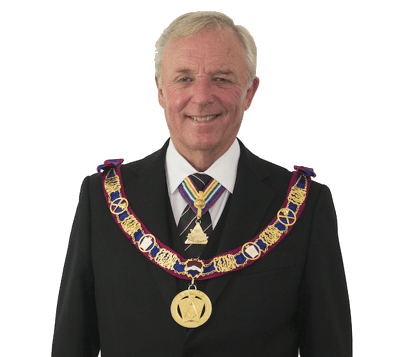 Provincial Grand Master - Prof. Denovan Keith Wilson
Den was born in Norfolk but was brought up in Sunderland and, together with Dorothy his wife, still lives there. They have three daughters, Diane, Kaye and Louise, and three grandchildren, Melanie, Philip and Matthew.
All his working years have been spent in and around the City, his initial training and occupation being as an engineer in the aircraft industry. His subsequent career includes a spell in electronics components manufacture, first as an engineering manager then as production manager; followed by being works manager in the ceramics industry; then several years as an academic at the University of Sunderland, first as a lecturer in management then as Director of the of the Business School, a role in which he played a major part in the development of the St Peters Campus of the University. It was in 1988, during his time as an academic, that Den earned a Doctorate. In 1993 the University conferred on him a Professorship in recognition of his work.
Den's Masonic journey began formally when he was initiated into Palatine Lodge, which meets in Sunderland, in 1973. Since then he has joined and become an active member of many other Masonic Orders and held senior office in several of them. This of course includes the Mark, in which he was installed as Provincial Grand Master on Tuesday 16th September 2014.
In 2011 he was installed as District Grand Master for Durham in the Order of Royal and Select Masters, a position he held until September 2017. In Craft Masonry the most senior offices he has held are Provincial Senior Grand Warden in 2005, Assistant Provincial Grand Master from 2006 to 2008, and Deputy Provincial Grand Master from 2008 to 2012.
Away from Freemasonry Den plays golf whenever possible. However he finds himself spending increasing amounts of time as Dorothy's labourer, working under her close supervision in her much loved garden.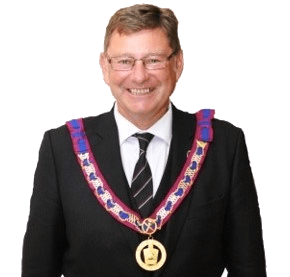 Deputy Provincial Grand Master - David Nigel Hanson
David was born in Sunderland in 1967 and attended Southmoor Comprehensive School. On leaving school he joined Vaux Breweries and has been involved with the licence trade ever since. He is currently a self employed Stocktaker. David and Marilyn have 4 granddaughters and a grandson of which they are immensely proud. In his spare time he enjoys playing golf where he is a member of Houghton le Spring Golf Club. He has just retired from playing cricket after 40 years. He was initiated into Sportsman's Lodge on the 6th December 1991 and was very fortunate to be the lodge's first candidate. He became Master in 2003 and was honoured by Province in 2010 being appointed Prov AGDC and in 2012 he was appointed Prov DGDC a position he held for 4 years. In 2016 he was appointed acting GStB in the United Grand Lodge of England.
In Chapter David was exalted into Williamson Royal Arch Chapter in 1993. He became First Principal in 2013 and is a founder member of Sportsman's Royal Arch Chapter. He was honoured by Province in 2016 being appointed Prov DGDC a position he still holds. In the Mark David was advanced into Union Lodge of Mark Master Masons by John Lowery and seconded by Jim Alderson on the 25th February 1993. He became Master in 2000 and received honours in 2004 PPrGSD. In 2014 he was promoted to acting GSW and was appointed AGSec. in December 2016. In June 2017 he was promoted to APGM and was appointed in Mark Grand Lodge to acting AGDC. David was elevated into Bede Royal Ark Mariners No.605 on the 28th February 2012, and was Worshipful Commander in 2016.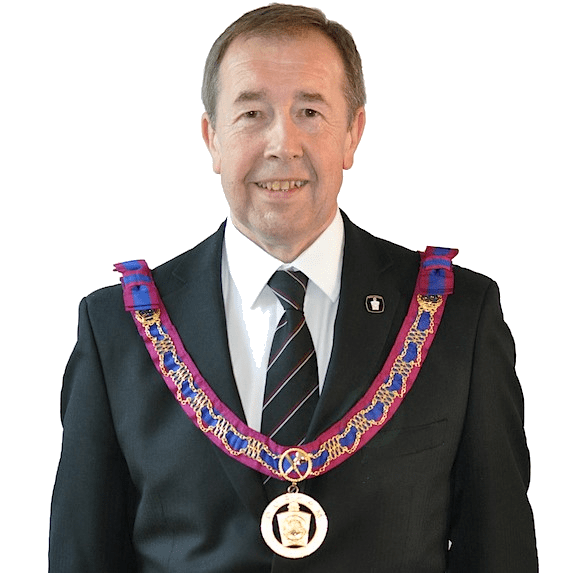 Assistant Provincial Grand Master - Ronald Trevor Lynn
Trevor was born in Howden - le- Wear in June 1958 and still lives in the same village. He was brought up with his elder sister and younger brother, and after attending the village junior school he furthered his education at Wolsingham Secondary School from 1969 until 1976.
On leaving school Trevor worked for Lloyds Bank, his only employer, for 36 years, initially working in Personal Banking in Durham City. In 1994 he joined the Commercial Banking Division where he specialised in dealing with Business Customers. He was promoted to Commercial Manager in 1999, a role he held until his retirement in 2012.
In Craft Masonry Trevor was initiated into Crook Lodge No 2019 in 1988, and was Worshipful Master in 2000, receiving Provincial Honours in 2007 as PPJGW, and he has been The Lodge Treasurer since 2001. In Mark Masonry he was advanced into Walton Mark Lodge No 1106 in 2001 and became Worshipful Master in 2011. In 2015 he received Mark Provincial Honours as Provincial Master Overseer, combining this role with Acting Provincial Assistant Secretary and Banquet Secretary. He received promotion to Provincial Assistant Secretary in June 2016 and was appointed Provincial Grand Secretary on December 6th 2016. In June 2017 Trevor was promoted to PPrGSW in the Mark degree and in November 2017 installed as Worshipful Commander of Barnard Castle Royal Ark Mariner Lodge. He received promotion to Assistant Provincial Grand Master on 24th May 2018, on 12th June 2018 he was appointed in Mark Grand Lodge to PAGDC, and on 7th September 2021 was promoted to PGJD.
Trevor currently holds active office in six different Masonic Orders.
Outside of Freemasonry Trevor and his partner Susan enjoy holidays abroad, usually aboard cruise ships. He is a keen gardener, enjoys cycling and is an enthusiastic supporter of Sunderland Football Club.
Provincial Grand Secretary - Allan Gurney
Allan was born and brought up in Bedlington (Northumberland), where his parents ran a butcher's business. His father was a Freemason in Bedlington, but, sadly in 1979, he died very suddenly at the age of 54 in Bedlington Masonic Hall at a Lodge meeting. Allan is married to Sarah, and they have 2 sons, Stephen and Michael.
At the age of 11, Allan went to Barnard Castle School and whilst there, sport played a large part in his life. His main passion was squash, in which he reached the final of what was then the British Under 16's Championship. He captained the School team for 3 years, during which, they won the National Schools' Championship in his last year. He also captained the school at Cricket, represented Northumberland Schoolboys for 2 years, and played Rugby for the school team.
In 1970, Allan went to Durham University, where he again played squash and cricket for the University teams. He also represented English Universities at squash. In 1973, he graduated with a B.A. in French & Latin.
He then began his first career – as a teacher spending almost 16 years teaching French all over the country. At all the schools, he was heavily involved with coaching sport and representing Durham County in sports to a high level.
His second career began in May 1990, when he became a Financial Adviser. He worked for Save & Prosper until 1994, before moving to Allied Dunbar for 3 years. Finally, in 1997, Allan set up his own company as an Independent Financial Adviser, which he ran until he retired.
Nowadays, Allan now contents his sporting interest with hitting a golf ball around Houghton-le-Spring, and then having a good walk through the trees looking for it.
Allan started late in Masonry as he only joined in 1996 becoming a member of Fawcett Lodge in Seaham, and later joined Old Barnardian Lodge at Barnard Castle. He is also in Unity Chapter, and Unity Mark Lodge – both in Seaham. Additionally, he is a member of Bernard Gilpin Royal Ark Mariners in Hetton, the St. Cuthbert's Council of Royal & Select Masters in Chester-le-Street, and the Royal Order of Scotland in Durham. He remains an active member in all the Degrees. Allan received the rank of Provincial 1st Assistant Grand Sojourner in the Chapter, and Past Provincial Grand Registrar in the Craft. In Mark Masonry, he was appointed ProvGSO in 2014, promoted to ProvGSW in 2016, and in 2017 appointed ProvGReg. In 2018, he received the rank of Grand Steward in Mark Grand Lodge.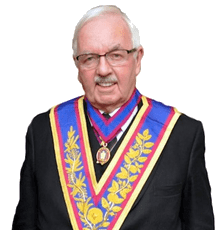 Director of Centenary Festival - Frank Alexander Rankin
Frank was born in Dunston in 1943 being the youngest of a family of three. He attended school at Dunston Hill before moving on to Blaydon Grammar School from 1954 to 1959. On leaving school Frank worked in the Chemical Industry as an Industrial Chemist and obtained his Higher National Certificate in Chemistry. He then joined Filtrona Filters based in Jarrow in 1973 where he worked for 28 years. He retired as Director of Quality in 2001 at the age of 58 and continued working with the company in a consultancy role until 2014.
Frank married Margaret at Dunston St. Nicholas Church in April 1967 and have two children Martin (also a very active Freemason) and Andrea and one grandchild Megan.
Outside of Freemasonry Frank is heavily involved in Non-League Football having played in the Northern League for Blyth Spartans, Willington and Stanley United. He is now Treasurer of Dunston UTS Football Club and in 2012 was present to see his team win the Football Association Vase at Wembley Stadium.
Frank was Initiated into Eslington Lodge No 4623 at Dunston in 1974 and was Worshipful Master in 1986 receiving Provincial Honours in 1995 as PPJGW and Grand Rank in 2002 as Past Assistant Grand Director of Ceremonies. He was Advanced into Ambrose Crowley Mark Lodge in 1979 and was Worshipful Master in 1990. In 1995 he received Provincial Honours as PPrGJW followed by appointments as Assistant Provincial Grand Secretary 1997-1999, Deputy Provincial Grand Secretary 2000-2002, Provincial Grand Secretary 2003-2005, Assistant Provincial Grand Master 2006-2014 and Deputy Provincial Grand Master from September 2014 until his retirement on 6th December 2016. In Grand Mark Lodge Frank was appointed Past Assistant Grand Director of Ceremonies in 1997, promoted to Past Grand Senior Deacon in 2004 and to Past Grand Junior Overseer in 2009. At a special meeting of Provincial Grand Mark Lodge on November 29th 2016 when all of the Mark and Royal Ark Mariner Lodges in the Province received Gold Patron Status in the Mark Benevolent Fund he had conferred upon him the rank Past Grand Master Overseer by the Pro Grand Master Most Worshipful Brother Richard Victor Wallis, J P. In the Royal Ark Mariner Degree he received Provincial Grand Rank in 1999 and Grand Rank in 2002.
Frank is a member of many Masonic Orders throughout the Province and is very active in the management of Dunston Freemasons Hall Company. He has been a Director and Hall Company Secretary for the past 15 years spending many hours in maintaining the building to a high standard with of course the help of his wife Margaret a loyal supporter of all his Masonic Activities.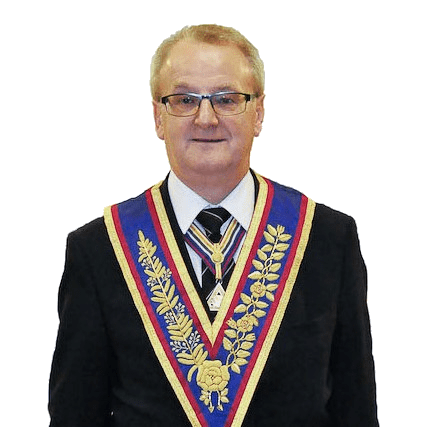 Provincial Grand Treasurer - Graham Mitchinson
Graham was born in 1960 in Stockton-on-Tees where he lived with his parents and was educated. After a career spanning 38 years with Northumbrian Water he retired in June 2016.
Graham continues to live in Stockton-on-Tees, and together with his partner Andrea, enjoys gardening, DIY and holidaying in Scotland.
Graham was introduced to freemasonry by his father Brian, and was initiated into Whitwell Lodge in 1984 when his father was Worshipful Master. Graham was Worshipful Master of Whitwell Lodge in 1991 and 1993 and has served the Lodge as Secretary from 1994 to the present day. Graham was advanced into the Percy Lodge of Mark Master Masons in 1985 and was Worshipful Master in 1995, he was elevated into the Stockton-on-Tees Lodge of Royal Ark Mariners in 1997 and was Worshipful Commander in 2002, he is also a Founder member of the Barnard Castle Lodge of Royal Ark Mariners.
Provincial Grand Director of Ceremonies - Mike Davis
Mike was born in Sunderland in 1949 and attended St Aidan's Grammar School. After leaving school he worked as a Professional Musician for many years but subsequently diversified his career gaining employment as a Foreign Exchange cashier and then as a Foreign Exchange Manager for Thomas Cook Ltd. After leaving Thomas Cooks he went to work for John Nixon Plant Hire as Group Credit Manager where he remained until taking early retirement in 2009.
Mike is married to Margaret and they have three daughters, six grand children and two great grand children all of whom play an important part in their lives. Mike's main interest apart from his family and freemasonry is playing lawn bowls in which he has achieved some success having won several major championships and having represented Durham County over 90 times.
Mike's Masonic career began in 1987 when he was initiated into The Lodge of Harmony 4224. He has been Master of the Lodge twice in 1993 and 1996 and has been the Lodge's Director of Ceremonies since 2000. He was appointed to Provincial Grand Lodge in 2000 with the rank of Acting Assistant Grand Director of Ceremonies and received further promotions to Past Provincial Grand Sword Bearer in 2001 and Past Provincial Junior Grand Warden in 2012. He was also appointed as Provincial Deputy Grand Secretary in 2012, a position which he continues to hold. Mike was also honoured by Grand Lodge in 2015 with the rank of Past Assistant Grand Director of Ceremonies.
In the Royal Arch Mike was exalted into Amity Royal Arch Chapter in 1988 and was the First Principal in 1999 and subsequently served as director of ceremonies until the Chapter's amalgamation with Londonderry Chapter in 2011. Mike was appointed to Provincial Grand Chapter in 2004 with the rank of Past Provincial Grand Sword Bearer and promoted to Past Provincial Grand Scribe N in 2008. He has also held the position of Provincial Grand Janitor from 2010 to 2018. He was further honoured by Supreme Grand Chapter in 2016 with the rank of Past Grand Standard Bearer.
In the Mark Degree Mike was advanced into Bede Mark Lodge 605 in 1988 and has served as Master in 2000 and 2001. He was appointed to Provincial Grand Lodge in 2004 with the rank of Past Provincial Grand Registrar and appointed as Acting Provincial Grand Junior Warden in 2006. He was appointed as Provincial Assistant Grand Director of Ceremonies in 2010 and promoted to Provincial Deputy Grand Director of Ceremonies in 2013, a position he has held until his appointment as Provincial Grand Director of Ceremonies in 2018. Mike has also been honoured by Grand Mark Lodge with the rank of Past Grand Standard Bearer in 2010 and promoted to Past Grand Junior Deacon in 2015.
In the Royal Ark Mariner Degree, Mike was elevated into Bede Royal Ark Mariner Lodge in 2010 and was Commander of the lodge in 2014 and 2015. He was appointed to Provincial Grand Rank in 2016.