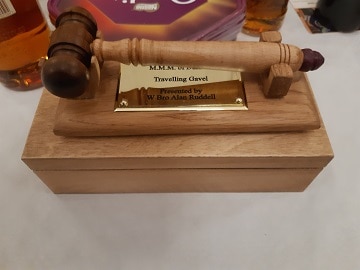 On Tuesday evening at the Cestria Mark Lodge meeting, brethren from Moseley Mark Lodge claimed the gavel.
The Travelling Gavel has resided at Cestria Mark in Chester-le-Street for a little too long, so thought the Master of Moseley Lodge. He decided along with a few other members to give it a new home at Birtley, so they made their claim.
The Master, Neil Garrett is seen in the photograph receiving the gavel from Peter Taylor, Master of Cestria Mark Lodge. He hopes to keep it a Birtley for a while, unless of course it is claimed by another Lodge in the near future – perhaps it could be your Lodge. If you want to claim it, then all you need to do is gather up some Lodge members and visit Moseley Mark in Birtley, enjoy the evening and stake your claim before you leave.